Below is an overview of the functions of the Acme Brick Co. Masonry Designer. This 'overview' section covers all elements of the user interface. The program vewing area consists of 5 sections. This document covers all of the functions of the Masonry Designer. For instance how to browse products, how to search for products, how to build and cutomize your wall selection, how to save your wall and find important dealer information. Please read through the rest of the help section to understand the potential of this exciting new web based visualization tool from Acme Brick Co.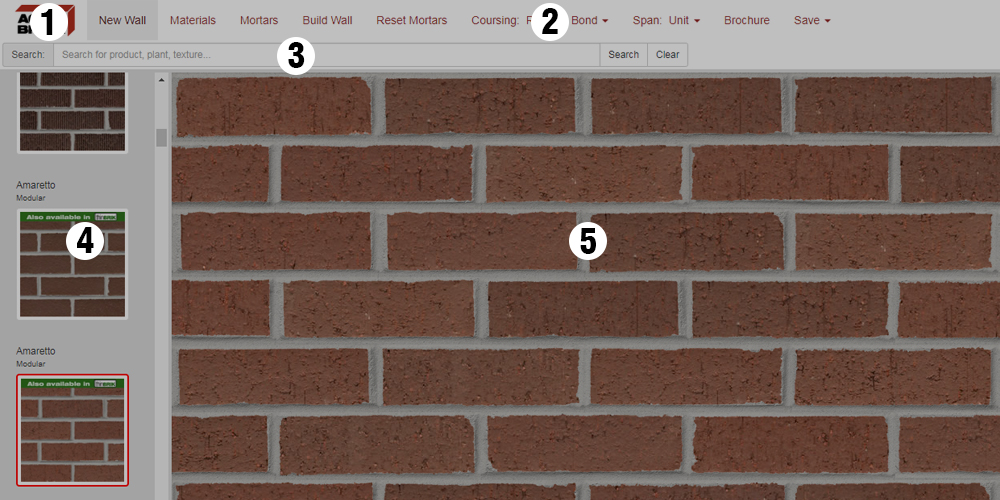 1. Acme Brick Co. web site link
2. Navigation Bar -All of the Masonry Designers functions/tools are accessed through these buttons.
3. Search Bar -You can search for specific products, sizes, textures or plants.
4. Product List -You can scroll and select products from these buttons.
5. Wall View/Build Area -This is the wall viewing area & where you can apply wall build changes.
Acme Brick Co. Link

The upper left logo will take you directly to the Acme Brick Co. website home page. From there you can explore all the diverse and great building products the Acme Brick Co. has to offer.
Navigation Bar

This group of buttons is the navigation bar for all of the functions of the Masonry Designer. These functions include: Making a new wall size, choosing a new material (Acme Bricks), choosing a new mortar color, build button to change the wall area to your selected brick product, resetting the mortar color without changing the wall design, the coursing pattern, the span, a print function with custom pdfs for your selected product, and how to save your wall design or seamless tile. Click Navigation Features to learn how to use each feature.
Search Bar

The search bar allows you to search for specific Acme products. If you know the name of the brick product you are looking for type it into the search and you will get the results in the left column of buttons. You can also search by these keywords:
Brick Name
Brick Size
Brick Texture
Brick Plant
Product List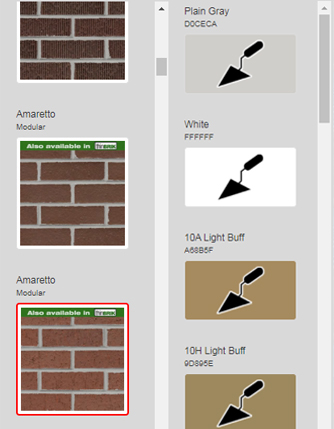 If you click the 'Materials' button in the navigation bar it will give you a list of Acme Bricks. You can scroll down through their extensive line of brick products. Acme Brick Co. offers King, Queen, Modular, Estate and Utility sizes displayed in the Masonry Designer program. They also offer many of the bricks featured as a Thinbrik version. This will be noted on the material button. Once you have the brick you want to use you can change the mortar color to match or compliment your selection.
Wall View/Build Area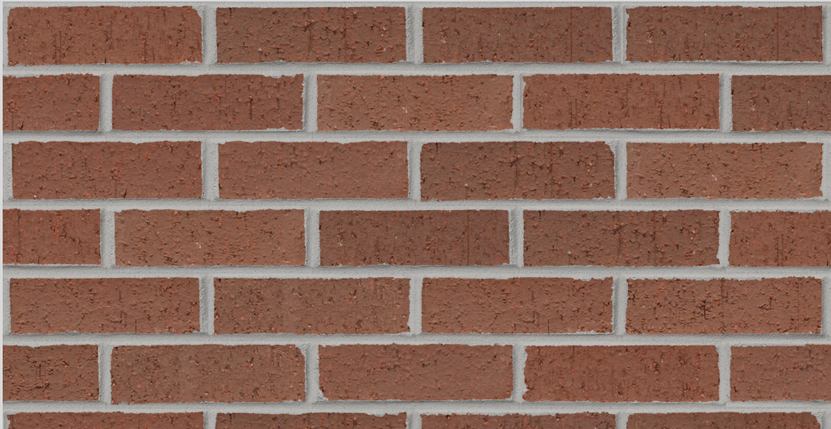 Think of this area as a 'canvas'. You will see all changes to your wall in this area. You can also click within the wall to make a custom design, add soldier coursings and headers, change single bricks, save your wall designs and then use them in high definition renders. The possibilities are endless. Make sure to use Masonry Designer for your next home building project.